Year 2 Ep. 5 – I'm Not Telling You to Wait, I'm Telling You to Work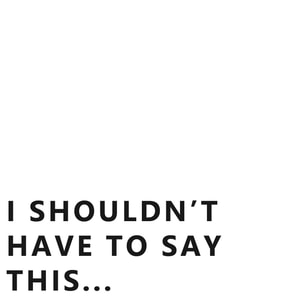 What are we going to do after this %@$*ing election?? We get to goddamn work that's what.
At-Will Employment: "Some states are "employment-at-will" states, which means that if there is no employment contract (or collective bargaining agreement), an employer can let an employee go for any reason, or no reason, with or without notice, as long as the discharge does not violate a law."(https://bit.ly/35nRnXM)
---
Follow I Shouldn't Have To Say This at @SayThisCast
Email us at [email protected]
Episodes come out twice a month! You can subscribe to I Shouldn't Have to Say This on Apple Podcasts, Googly Play, Spotify, Stitcher, and more!
If you'd like to support the show, you can become a Patron at Patreon.com/saythiscast where you can suggest topics for shows, and listen to each episode a day early! We'll even thank you on air for your generosity.  You could also buy us a Ko-fi at ko-fi.com/saythiscast!
All our music, including our theme song "Mario Bay Breeze (Super Mario 64)", performed by Anthony Lofton & Mustin, is from the album More Than Mario, which you can purchase here: http://smarturl.it/dnmmario
Find more of Mustin's work at store.mustinenterprises.com]
Follow Nicole on Twitter: @Jackof3Trades
Janra's Twitter is @PressStartLock. You can join him every Tuesday at 10pm and Friday at 3pm (both EST) on his twitch channel for political chats! twitch.tv/pressstartmorlock
This podcast is a member of the Planetside Podcast Network. Visit Planetsidepodcasts.com to find other Planetside Productions!
Find out more at http://saythiscast.com
Send us your feedback online: https://pinecast.com/feedback/saythiscast/4dc31783-7b70-4884-9f97-147e1d0f08a5